Dr Hussian Mohi-ud-Din Qadri launches Zarb-e-Amn drive in Karachi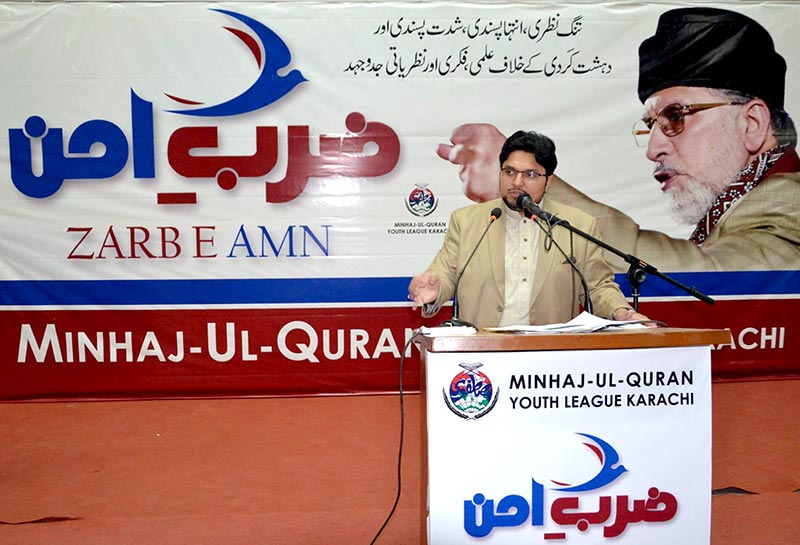 Zarb-e-Amn campaign against terrorism and extremism at intellectual, scholarly and practical levels remains underway under the banner of MQI and PAT. Peace initiative seminar was held in Sindh Scouts Auditorium in which Zarb-e-Amn drive was launched in Karachi the other day. PAT Youth Wing hosted the seminar, which was attended by hundreds of men and women.
Addressing the seminar, President of MQI Dr Hussain Mohi-ud-Din Qadri said that Pakistan military is fighting a war against terrorism to protect the country from this lethal scourge, whereas PAT is safeguarding the ideological frontiers of the country through peace and knowledge initiatives. He said that we want to put an end to political and religious extremism through Zarb-e-Amn, adding that the government has failed miserably in controlling the religious seminaries that accept foreign funding and are engaged in spawning radicalism. He asked as to why the National Action Plan has only been implemented in Sindh and Karachi and why is it not being implemented in Punjab?
Dr Hussain Mohi-ud-Din Qadri said that the government has thwarted the NAP. He said that 14 martyrs and around 100 injured people of the Model Town tragedy are still waiting for the Rangers' operation, implementation of NAP in Punjab and justice from the courts. He said that extremism is very toxic for Pakistan and Islam. He said that Dr Tahir-ul-Qadri is the ray of hope for the 200 million people who took on the terrorists by putting his life at stake. He said that Dr Qadri saved the youth from falling into the trap of terrorists and extremists by designing Islamic Curriculum on Peace and Counter-Terrorism and made them ambassadors of peace.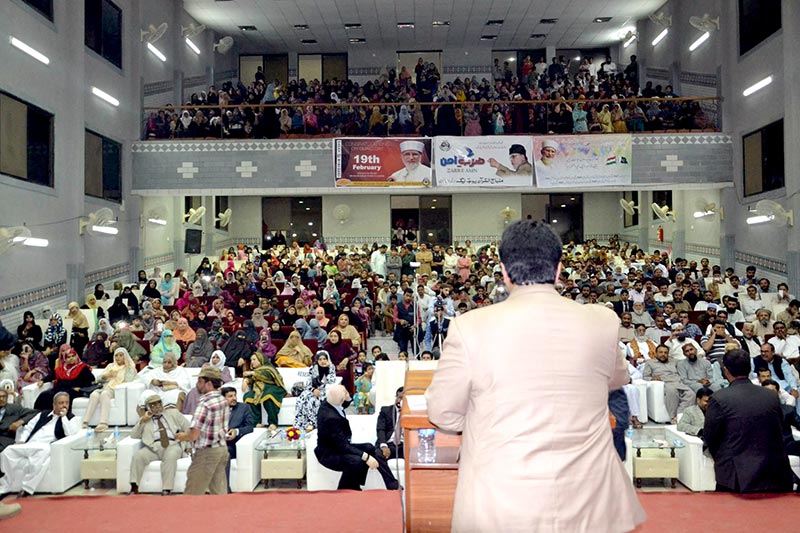 The MQI President further demanded that the NAP should be implemented in letter and spirit for complete elimination of terrorism from the country; the foreign funding of religious seminaries should be stopped; peace curriculum should be made part of national educational curriculum; the defunct organizations working with changed names should be banned for good; the youth should be empowered through education and employment so that they do not allow themselves to fall in the pit of despondency and helplessness.
Dr Hussain Mohi-ud-Din Qadri further said that literature that promotes and eulogizes terrorism, extremism and Takfiri ideology should be banned; hurdles in the way of military courts should be removed; reforms should be brought about in syllabi of religious seminaries. He said that the whole nation pays its tributes to the Pakistan military for its sacrifices. He said that every child and worker of PAT stands by the military in its fight against terrorism.
The proceedings of the seminar got underway with the recitation of the Holy Quran at 6 p.m. followed by Naat which Faheem Siddiqui had the honour of reciting. Mahmood-ul-Hassan presented the Tehreeki anthem. General Secretary of PAT Youth Wing presented the welcome address in which he thanked Dr Hussain Mohi-ud-Din Qadri for taking time out to visit Karachi.
Addressing the seminar, Mazhar Alvi, central President of PAT Youth Wing, asked the youth to take the message of peace to every nook and corner of the country. He said that 5 million youth will be made part of the peace initiative across Pakistan so that extremism could be got rid of in its entirety.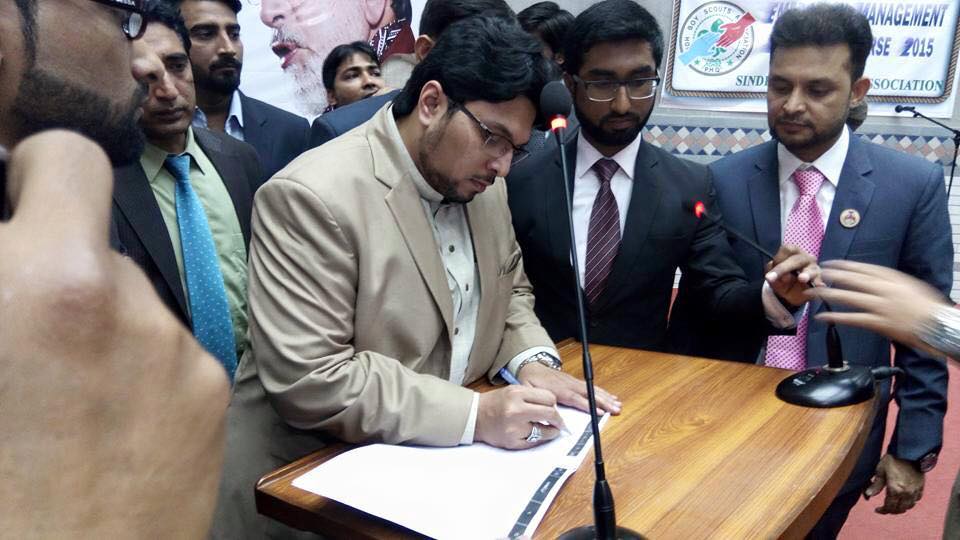 Dr Hussain Mohi-ud-Din Qadri put his signature on the campaign to formally launch it in the biggest city of Pakistan. He also gave away shields to the presidents and secretary generals of the Youth League to date and commended their dedication and performance.
The cake of the 65th birth anniversary of Shaykh-ul-Islam was cut on the occasion and Rao Muhammad Tayyab, president of MYL Karachi, presented vote of thanks.
Prof Khayal Afaaqi of the Federal Urdu University spoke in the seminar and said that the lucky nations get to have personality like that of Dr Tahir-ul-Qadri in centuries. He said that he should be valued in his life because he is an asset of Pakistan and the Islamic world.
Dr Khawaja Muhammad Ashraf, Qazi Zahid Hussain, Mirza Junaid Ali, Dr SM Zameer, Syed Ali Ost, Rao Kamran Mahmood, Syed Zafar Iqbal, Safdar Qureshi, Qaiser Iqbal Qadri, Adnan Rauf Inqilabi, Ilyas Mughal, Rani Arshad, Iram Qaiser, Tasbiha Shafique, Lubna Mahajar, Rana Nafees, Zahid Lateef, Bashir Khan Marwat, Irfan Yousaf, Imad-ud-Din, Masood Ahmad, Muhammad Tayyab, Hafiz Muhammad Usman, Shahid Malik, office bearers of various fora of PAT and MQI were among the distinguished attendance. The hall was packed to its capacity as people were truly eager to listen to the speech of Dr Hussain Mohi-ud-Din Qadri.