MYL holds peace workshops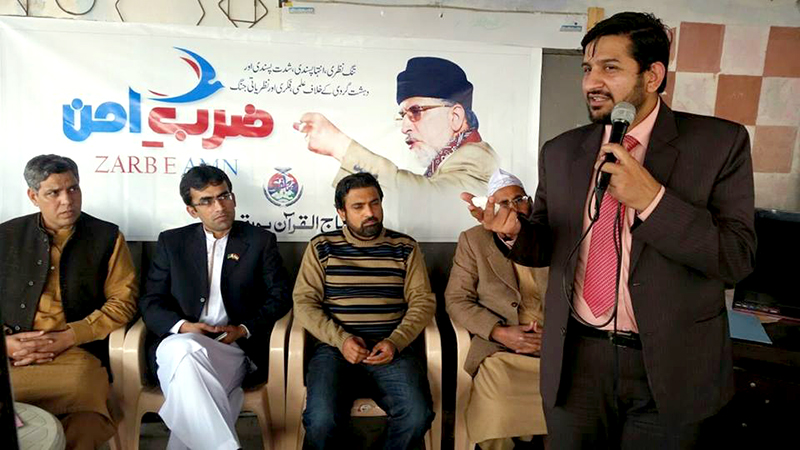 PAT Chairman Dr Muhammad Tahir-ul-Qadri announced to launch peace initiative (zarb-e-Aman) on the occasion of the 32nd International Mawlid-un-Nabi Conference held at Minar-e-Pakistan. Minhaj-ul-Quran Youth League formulated a comprehensive five-tier plan to run this campaign effectively at district, tehsil, union council and unit levels. The first phase of the campaign started on January 10 and concluded on January 20, 2016. Peace Youth Training Workshops were held under the banner of MYL in different cities namely Lahore, Gujranwala, Mandi Bahauddin, Jhelum, Okara, Faisalabad, Lodhran, Dunapur, Rahim Yar Khan, Multan, Layya, Sukhar, Mirpur Khas, Hyderabad, Abbottabad, Rawalpindi and Chakwal.
These workshops were attended by MYL office holders namely Mazhar Mahmood Alvi, Mansoor Qasim Awan, Umar Qureshi, Haroon Sani, Muhammad Ismail, Inam Mustafvi, Nasir Mustafi and Ali Raza Nat. In these workshops, the MYL leaders threw light on the importance of peace. They prepared peace workers to spread the message of love and harmony in the society.
Addressing these workshops, MYL President Mazhar Alvi said that the Muslim world in general and Pakistan in particular have faced extremism, radicalism and terrorism for last 25 years. He said that PAT chief Dr Tahir-ul-Qadri issued most authentic and scholarly Fatwa against terrorism which took the wind out of the sails of terrorists. He said that he helped build a counter narrative which dealt a fatal blow to terrorism and extremism.