Islamic scholar tells British Muslims to march for peace to show they don't 'quietly condone' terrorism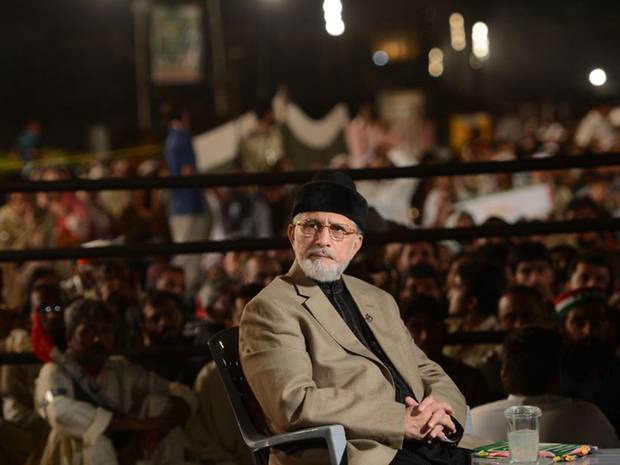 Five years ago Dr Muhammad Tahir-ul-Qadri issued a fatwa against terrorism
The world's leading Islamic scholar on countering the ideology of Isis today suggest that British Muslims hold a mass march for peace to publicly demonstrate that they do not "quietly condone" terrorism.
Dr Muhammad Tahir-ul-Qadri, a Pakistani theologian who achieved international fame after issuing a fatwa against suicide bomb attacks, said a major display of the community's commitment to tenets of peace and non-violence – which he insists are central to Islam – would help counter the message of Islamist violence.
That murderous philosophy was in evidence across the world on Friday, with tourists massacred at a beach resort in Tunisia, the suicide bombing of a Shia mosque in Kuwait and a man beheaded in France.
But, in a leafy suburb of London, Dr Qadri was plotting a fightback of a most peaceful kind. The scholar, who has received death threats for stating that violence is wrong and Islam is a religion of love and compassion, is on a visit to Britain to promote ideas designed to break the vicious circle of terrorist attacks and Islamophobia.
Dr Qadri told The Independent that he would raise the idea of a march at a meeting of up to 700 imams, community activists, students and other people interested in his ideas in London.
Such a public demonstration would "show that the Muslim community at large, they are for peace, they are against any kind of terrorism, they are not silent, they are vocal and they don't condone, they condemn it," he said, echoing David Cameron's controversial remarks earlier this month that some British Muslim communities "quietly condone" the "poisonous ideology" of Isis.
Dr Qadri said that if the march took place he hoped people of other faiths would make it a display of solidarity between different religions. "If the non-Muslim community also joined that march to show integration it would become more [significant] and the people would see they were together," he said.
Speaking of the "extremely brutal" terrorist attacks in Tunisia, France and Kuwait, he said: "I condemn it a hundred times and it is the responsibility of every Muslim leader and scholar, every senior Muslim person, to condemn it.
"These are criminals, the enemies of humanity, the enemies of religion, the enemies of morality, the enemies of human values."
He said he respected countries that opposed the death penalty, but called for them to impose the strongest sentence on such terrorists – and said he personally believed they should be executed.
"They should not be forgiven, they don't deserve any kind of softness," Dr Qadri said.
Their actions, he said, were specifically proscribed under Islam and effectively meant they were no longer Muslims. "Those who attack civilians, Islam says they will go to hell. They will never even smell the fragrance of paradise," he said, stressing that this applied to those who killed Muslim and non-Muslim civilians alike.
"The person who promotes these kinds of things and thinks this is lawful …. he goes and leaves Islam, he does not remain faithful or Muslim anymore because of this belief."
His message that Isis has "nothing to do with the Koran" is the central one in an educational curriculum he launched in London earlier this week.
About 10 schools and "hundreds" of mosques have already expressed interest in the curriculum and Baroness Warsi, the former Cabinet minister and the first Muslim to hold such a post, urged the Government to introduce it in all schools. It includes books such as Muhammad the Peacemaker and Islam on Serving Humanity.
The idea of a mass peace march won tentative support from a leading member of the Muslim Council of Britain (MCB). Ameena Blake, the MCB's assistant secretary-general, said she planned to raise the subject with the group's executive committee.
"It would certainly be something we would be interested in looking at," she said. "It needs to be multi-faith because the British public are losing trust in Muslims because of the confusing messages they are getting."
And she said it would be "absolutely wonderful" if David Cameron and other leading members of the Government would "walk alongside Muslim organisations and individuals" on the march.
Source: www.independent.co.uk